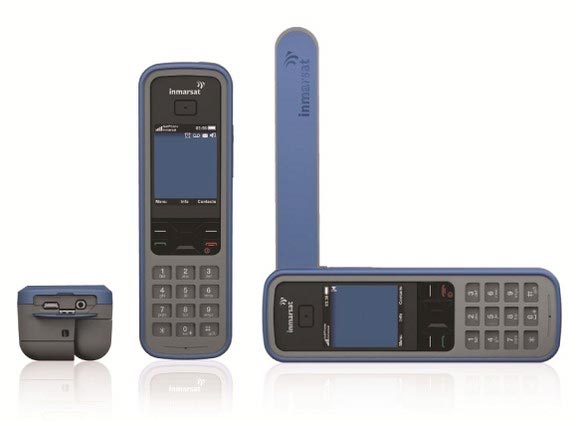 New Inmarsat IsatPhone Pro Satellite Phone
Now With Data Capabilities!
Inmarsat's newest portable satellite phone to enter the market, the IsatPhone promises to throw up tough competition!
With it's sleek new design, the IsatPhone Pro is now capable of both voice and data. This satellite phone has excellent voice quality, with clarity you would not expect from a standard satellite phone.
The IsatPhone Pro data is compatible with MailASail teleport-it, please see our online set up guides for further information on how to make your IsatPhone Pro send compressed emails!
Call costs are roughly $1 per minute, dependent on what type of phone you are calling. MailASail can offer both pre pay and post pay options, please see the below links for more information:
The IsatPhone Pro is recommended for land based use where voice is the primary requirement.
Features:

Almost global coverage
8hrs talk time, 100 hrs standby
Integrated GPS sensor (with "text/email position" function)
Ingress Protection IP54 with dust, shock and water resistance
160 character SMS
Speaker Phone
Bluetooth capabilities
Colour screen
Calendar, Alarm, Calculator, Minute Minder functions

Specifications:
Size:
Charge Time:
Weight:
AC Power:
DC Power (in car charger):
Battery:
Operational temperature:
In the Box:


6.7" x 2.1" x 1.5" (170mm x 54mm x 39mm)
3.5 Hours
279g
100 - 240 VAC, 50-60Hz; (comes with international AC adapter kit)
Input 10 - 32V (output 6V 800 mA)
Li-Ion rechargeable 3.7 Volts
-20°C to +55°C (-4°F to +131°F)
IsatPhone Pro satellite phone handset, battery, 4 International AC power adapters, in-car charger, AC/DC charger, USB to Micro USB data cable, wired hands-free headset, wrist strap, SIM card, 8 language Quick Start Guide, user guides and documentation.