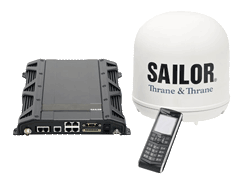 The Sailor FleetBroadband 250, the right balance between speed, size and money!
The Sailor FleetBroadband 250 is not quite the fastest or the most affordable in the FleetBroadband family, but for many owners strikes the right balance of speed, size and money.
The Sailor FleetBroadband 250 is virtually the same size as the FleetBroadband 150 but can manage nearly twice the data speeds. The FleetBroadband 250 is also better equipped with its two extra ethernet ports, fax capabilities and guaranteed streaming IP bandwidth.
The Sailor FleetBroadband 250 is the perfect partner for someone wanting to run a business from their boat.
For information on airtime plans available, please go to our FleetBroadband Airtime pages
Sailor FleetBroadband Specifications
Features:

IP connection for Internet, Email, VPN etc.
Data speeds up to 284 kbps
Streaming IP up to 128 kbps guaranteed
Voice and data simultaneously
Antenna diameter less than 30 cm
Antenna weight less than 4 kg
Plug-and-Play handsets

Specifications
Size:
Below deck unit:
Handset:
Standard IP:
Streaming IP:
ISDN:
Voice:
Fax:
SMS:
Interfaces:
Operational temperatures:
BDU Interfaces:


Above deck unit: Height 27.56cm, diameter 32.92cm (3.9kg)
27.3 x 26.4 x 4.25cm
1.52 x 5.5 x 2.65cm
Up to 284kbps
32, 64, 128kbps
N/A
4kbps, 3.1kHz audio
Group 3 fax via 3.1kHz audio
Standard 3G (up to 160 characters)
RJ-11(2), RJ-45(4), Ethernet(PoE), L-Band connector, digital I/O, DC Power input
-25°c to +55°c
Power On/Off button DC heavy duty power input connector with Remote on/off and locking mechanism, 4 10/100Mbit Ethernet LAN user ports with Power over Ethernet (PoE), 1 Euro ISDN Sim card, Factory default reset, 2 Independent RJ-11 phone connectors,5 I/O connector with General Purpose I/Os, L-band output, Status LEDs
Please Note: Due to registered patents by an American wireless Prepay company, FleetBroadband Prepaid is currently not available in the USA until further notice.