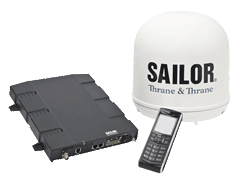 The Sailor FleetBroadband 150 closes the gap between affordability and Broadband on your boat.
The Sailor FleetBroadband 150 is the latest release from Thrane & Thrane and uses the Inmarsat satellite constellation.
The new FB150 service has been established to provide a low-cost means for leisure craft, smaller fishing and commercial vessels to take advantage of the IP data, high quality voice communication and SMS provided by FleetBroadband.
The new SAILOR 150 FleetBroadband terminal offers 150 kbps IP data and simultaneous landline quality voice, ensuring that a new class of user can benefit from the FleetBroadband revolution. It enables broadband internet browsing and downloading with the cost-effective airtime that has proven vital to the fast uptake of the FleetBroadband service since its introduction in November 2007.
Previously if you wanted access to high speed data the only options were larger, more complex and expensive systems requiring a professional install. Other alternatives while effective for fax and voice calling were painfully slow on data if it was even available. The FleetBroadband 150 in contrast is the most compact, lightweight seaborne IP solution to date.
For information on airtime plans available, please go to our FleetBroadband Airtime pages
Features:

IP connection for Internet, Email, VPN etc.
Data speeds up to 150 kbps
Voice and data simultaneously
Antenna diameter less than 30 cm
Antenna weight less than 4 kg
Plug-and-Play handsets

Specifications
Size:
Below deck unit:
Handset:
Standard IP:
ISDN:
Voice:
SMS:
Interfaces:
Operational temperatures:
BDU Interfaces:


Above deck unit: Height 27.56cm, diameter 32.92cm (3.9kg)
27.3 x 26.4 x 4.25cm
1.52 x 5.5 x 2.65cm
Up to 150kbps
N/A
4kbps, 3.1kHz audio
Standard 3G (up to 160 characters)
RJ-11(2), RJ-45(4), Ethernet(PoE), L-Band connector, digital I/O, DC Power input
-25°c to +55°c
Power On/Off button DC heavy duty power input connector with Remote on/off and locking mechanism, 2 10/100Mbit Ethernet LAN user ports with Power over Ethernet (PoE), 1 Euro ISDN Sim card, Factory default reset, 2 Independent RJ-11 phone connectors,5 I/O connector with General Purpose I/Os, L-band output, Status LEDs