Iridium Satellites

Iridium offer a totally global network using a network of 66 low orbiting satellites, this keeps the call quality high and the delay on the line low. With an Iridium satellite phone you can place calls from the middle of an ocean and the network routes the call via the Iridium satellite network to the nearest ground station (unlike Globalstar which can only be used "near" land).

A wide variety of Iridium phones are available including portable phones such as the Iridium 9555. Fixed satellite phones are also avaialble such as the Iridium 9522-P and some larger units such as the Eurocom / Skanti / Sailor fixed Iridium phones
Iridium Coverage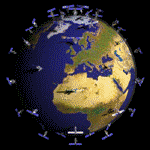 As you can see from the animated graphic, the orbiting nature of the Iridium satellites means there is global coverage. However, Iridium state that the system cannot be used in a number of countries including Poland, North Korea, Northern Sri Lanka. However, opinion varies as to how well this is enforced in practice.
Iridium satellites pass overhead approximately every 7 minutes and the network automatically hands off to the next nearest satellite - so line drops should be rare as long as you have a strong signal and a clear view of the sky. At any one time it should be possible for the phone to "see" a number of iridium satellites.
Iridium Handheld Satellite Phones
Please click on the graphics for more information or to purchase:
Iridium Fixed Install Satellite Phones
Iridium Midband Marine Internet
Iridium Midband Land Internet
Iridium High Speed Marine Broadband
Running Costs
Base call costs are around $1.50/min flat rate to any normal phone, and around $1/min to another Iridium phone (33% discount on Iridium to Iridium calls). These drop to around $1/min flat rate for higher volume users.
Iridium Accessories
Serial to USB Adaptor
The Iridium datakit is supplied with a "Serial" connector. Most laptops sold these days do not have this connector and so an adaptor to convert to USB will be required.

Our adaptors are well tested and have proved very reliable and easy to configure (always a nice feature when you are 1,000 miles from the nearest computer shop). You can also easily use more than one adaptor if required (for example if you need a second for a GPS unit, or an SSB weather system, etc)
Other Iridium Accessories
| | |
| --- | --- |
| | Looking for accessories, spares and extras for your Iridium phone. Click here for Iridium Accessories |
Summary
Iridium remains one of the most popular and cost effective ways to get a totally global and portable satellite phone. The Iridium 9555 phone is small enough to be kept in a grab bag and in the unlikely event you should need to abandon ship in a hurry you have a reliable method to communicate for help.
Unsure which model Iridium you have? Take a look at our comparison page for Iridium handheld phones: http://www.mailasail.com/Communication/Iridium-Handheld-Sat-Phones-Overview
Thuraya offer cheaper equipment and calls, and faster internet access - but they can't offer global access like the Iridium system, and won't work (well) offshore