Equipment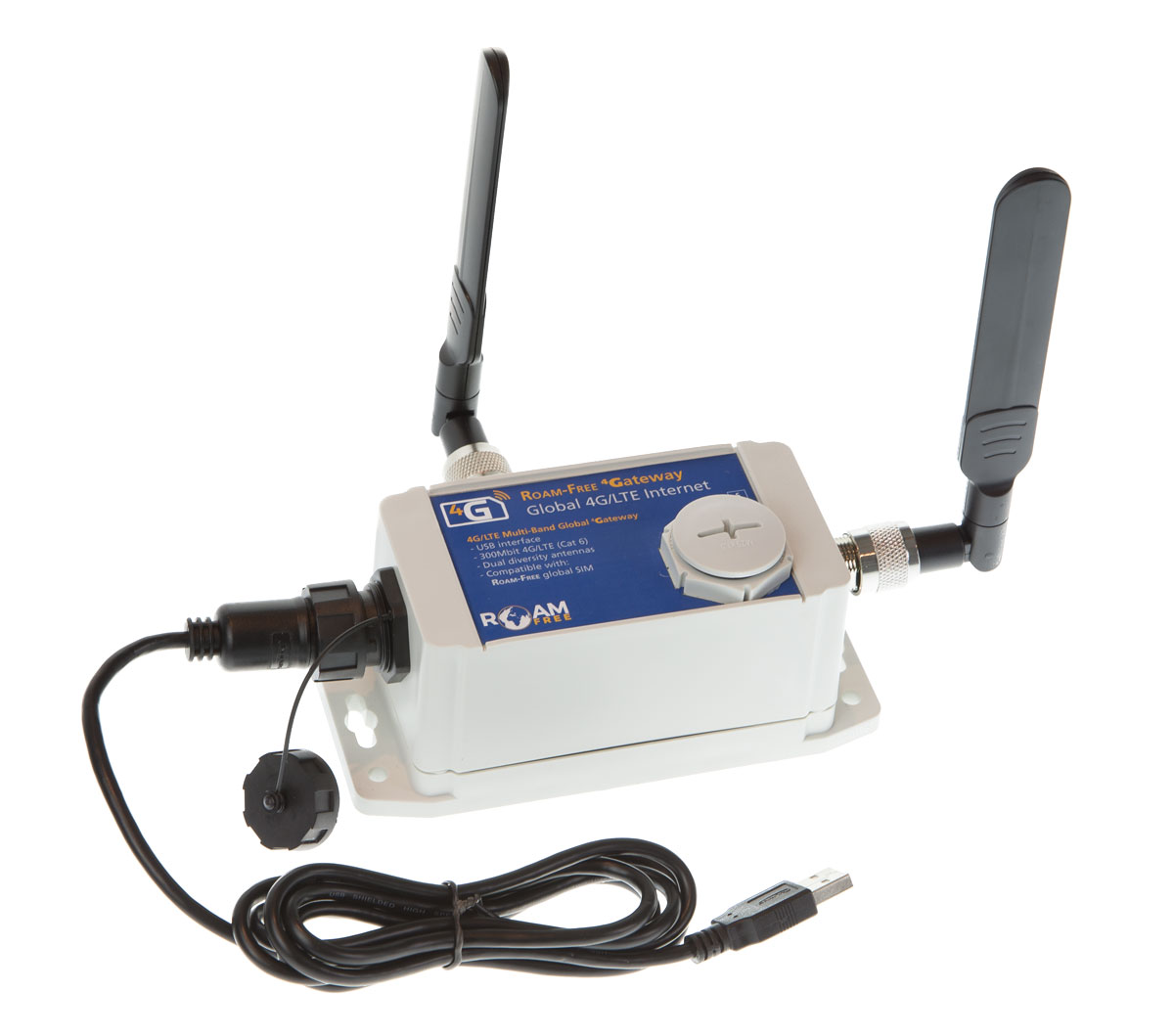 What is it?
The Roam-Free 4G 4Gateway is a type of 4G (and 3G) hotspot, capable of supplying fast internet service via the cellular mobile phone network.
Why do you need it?
Stronger signals mean higher speeds and/or being able to connect over longer distances. The Roam-Free 4G 4Gateway has dual antennas which are much larger than on a mobile phone (or hotspot) to hook in signals from a much longer range.
Additionally, the 4G 4Gateway is one of the first devices that keeps working at maximum speed all around Europe and even all around the globe. Most hotspots only support 4G in certain regions, for example in the UK Vodafone uses different standards for 4G in London vs in Southampton. Most devices fall back to older slower speeds at best, or may not work as you travel through Europe (and few will support best speeds in the Caribbean).
Roam-Free 4G 4Gateway Supplied with:
2x "Rubber duck" style high sensitivity antennas
1.5M USB cable
Please also not that we use radios from Sierra Wireless in this product, which is worth noting as many governments around the world recently have embargoed Huawei products
4G, 3G, LTE and other buzzwords
There are a huge range of buzzwords for mobile internet, such as "LTE", "4G", "3G" and "GPRS". Whilst these are all marketing buzzwords (and technically refer to a group of related technologies, rather than being a single thing in their own right), for our purposes they all simply mean "mobile (or cellular) internet". Really, the precise term simply refers to the *maximum* speed that you can expect in that particular location.
The characteristic of all these technologies is that you pay for the amount of computer data you send. The older style "dialup" usage was billed based on the length of time you were online (which is still used for some of the slower satellite type services)
So a large email costs more to send than a small email - but at least in theory you can remain connected to the internet all day and not be charged (only if you actually do something on the internet you pay based on the number of characters sent and received).
Using an email compression service like our teleport-mail service cuts your bill even further since you are paying based on the number of characters sent and received across the link. Our service ensures that all data is compressed before it leaves the computer - hence you pay only a fraction of the usual price!
Pricing
Tariffs vary VERY significantly and there is quite a lot of flux on pricing at present time. Roaming and using your telephone outside of your home country is currently getting easier with some networks, but please make sure you get the package that is right for you
Specifications
| | |
| --- | --- |
| Max Speeds | Cat6: 300mbit down, 50Mbit up |
| LTE | B1, B2, B3, B4, B5, B7, B8, B12, B13, B20, B25, B26, B29, B30, B41 |
| 3G | B1, B2, B3, B4, B5, B8 |
| Region | Global |
| Carrier Aggregation | Yes |
| Regulatory | CE, FCC, GCF, IC, NCC, PTCRB |