Iridium 9555 Phone - Anywhere is the new everywhere
Iridium 9505a Sat Phone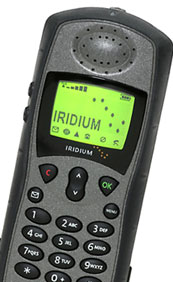 Looking for information on the previous Iridium 9505a sat phone?
Mobile satellite communications can expand frontiers, create opportunities, and establish critical lifelines. But only when they work.
The Iridium 9555 satellite phone is the ultimate in dependable mobile communications. It is a ruggedly built tool, not a toy. It won't play games, take pictures, or play MP3s. What it will do, is work. Everywhere.
The Iridium 9555 is not only the smallest portable phone Iridium has ever made, it's also the most powerful. With a significantly reduced footprint from the previous Iridium portable phone, more hand-friendly form factor, and aerodynamic features such as an internally stowed antenna, this sleek new handset is designed to go wherever you go.



Iridium 9555

Features:

Compact physical footprint for streamlined portability
Intuitive user interface for out-of-the-box functionality
Water, shock and dust resistance for unparalleled durability
Enhanced SMS and email messaging capability
Integrated speakerphone
Headset and hands-free capability
Internally stowed antenna
Mini-USB data port

Specifications:
Size:
Charge Time:
Weight:
Power:
Consumption:
Battery:
Operational temperature:
Keyboard:

In the Box:


143mm (L) x 55mm (W) x 30mm (D)
4 Hours talk time, Up to 30 hours standby, recharge time 4 Hours
255g (9.4oz)
90-240 VAC, 50-60Hz
0.57 Watts
Li-Ion rechargeable
Max: -10C/+55C
4x16 alphanumeric, backlit keyboard, 32 digits, multiple languages, clock, removable satellite antenna, vibracall, ringing tones, IDD key, call forward, voicemail, SMS, (160 characters).
Battery, AC charger with International plug kit, DC charger, Antenna Adapter, External magnetic car antenna with 5 feet of cable, leather holster, hands free earpiece and microphone, mini usb cable, CD and user manual.


Older Specs
9505a PDF Brochure
9505 PDF Brochure
9500 PDF Brochure

Iridium 9555 Video