Iridium's New Flagship Satellite System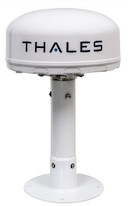 Introducing the World's fastest L-Band system from Iridium - Iridium Certus 'VesseLink'. A truly global, high-speed network specifically engineered for the marine market. Iridium VesseLink offers true faster IP connectivity with up to three phone lines available for simultaneous use. Equipment is very easy to install and surprisingly affordable. Iridium Vesselink delivers even faster data speeds than ever before, continuing its excellent pricing structure. A perfect solution to your customers and their fleets.
Iridium VesseLink offers:
Three upgraded phone lines (improved audio)
High-speed data
Flexible and attractive 3 months pricing plans.
Super lightweight, Solid-state antenna.
Best of all, The iridium VesseLink retains its truly worldwide pole-to-pole coverage, benefitting from its upgraded 'Certus' satellites. Unmatched network quality and world-class technical support.
Features:




3 upgraded RJ11 phone lines for simultaneous captain and crew use
IP data sessions up to 700kbps (down) /352kbps (up)
Truly Global, pole-to-pole coverage
Wall-mounted below deck unit
Solid State Antenna
Small footprint and very light weight
Simultaneous voice and data
Flexible 3 monthly plans

Specifications


Size:
Below deck unit:
Standard IP:
Interfaces:





Above deck unit: 356 x 2290 mm, Weight: 3.2 kg
305 x 229 x 76 mm
Up to 700kbps down 356kbps up
RJ-11(3)



Faster Data
Iridium Certus utilises true IP technology to provide a flexible and powerful array of high speed data services. A single Ethernet port provides a connection to a standard PC but a recommended smart router (like the Redbox) is much preferred/required Engineered for premium Maritime data functionality, data and phone ports support high-volume usage. Iridium Certus VeseLink's simplified 3 month service plans replace expensive and wasteful per-minute pricing with more cost-effective per-megabyte/gigabyte rates.
Less Expensive
With its very small footprint and light weight design, the Iridium VesseLink omni-directional antenna array does not require a stabilization platform and is virtually maintenance-free. It can be mounted in any convenient location on deck for quick, easy and inexpensive installation. The lower and improved airtime costs add up to a much faster return on investment.
For our airtime rates please download the Iridium Certus airtime form
To Apply for an airtime account, please email sales[at]mailasail.com for the most up to date documentation
A Massive Return on Investment
Users will quickly reap the benefits of Iridium VesseLink. Multiple phone lines allow for simultaneous captain and crew use while email and data files are being transmitted. Affordable, easy-to-install equipment provides a premium solution for any customer wanting the very best in L-Band Connectivity, all over the planet!