Pre-Requisites
(You MUST have Mac OS version 10.14 Mojave (2018) - OSX10.13 High Sierra (2017) has show stopper bugs in the mail program!)
Please make sure that you have a reliable internet connection before trying to progress through this section. Without a reliable, working internet connection you will not be able to pickup your email! Many problems we see stem from trying to setup an Iridium connection AND our email software at the same time - and when it doesn't work you have twice as many problems to figure out!
It doesn't matter how you connect to the internet, but before you go any further verify that you can connect to the internet reliably and open up a small web page without any trouble, eg:
Login Details
Your username and password are supplied by MailASail. If you have lost them, then please contact: support@mailasail.com
These login details are required to access the system from both your email program and also if you are in an internet cafe and logging in via the webmail at: http://webmail.mailasail.com
Configuring Mac Mail.app to use teleport-mail either via the Red Box router, or directly.
Configuring Mac Mail (either using a Red Box router, or direct internet connection)
Setting up your teleport-mail account is much the same as setting up any email account:
First enter the Mail.app preferences page (either click menus "Mail", then "Preferences", or use the keyboard shortcut Cmd + ",").
Ensure you are on the Accounts page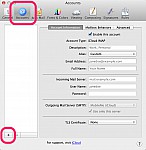 Now click the "+" button at the bottom of the accounts list
Follow through the account creation wizard, as per the screenshots, ensuring that you enter the "Username" and "Password" correctly as per your teleport-mail account details.
The main settings you will need are the server details:
Server Type: POP
Incoming Server (POP): mail.mailasail.com
Outgoing Server (SMTP): mail.mailasail.com
It's ESSENTIAL that you enter your email address and password in BOTH the incoming and outgoing settings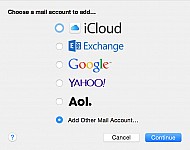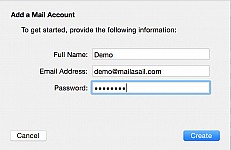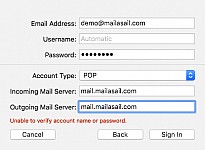 Disable SSL for Satellite Connections (Iridium/Inmarsat/etc)
For best speed, it's VERY important to disable SSL (encryption) on both incoming (POP) and outgoing (SMTP) email services. This is a trade off, security and lack of possibility of spying on your emails vs connect time... SSL connections add 45-60 seconds to the server connection time... This is generally too much of a penalty to be bearable for most users.
To do this, in the Preferences page (as per above), check through the screens verify that all the settings as highlighted in the screenshots below. In particular ensure:
SSL is turned off for BOTH incoming and outgoing servers
Ports are specified as 587/110 (as per screenshots)
Authentication must be set as "Password" (highlighted in screenshots)
NO tick in "Automatically detect and maintain settings"
Tick in "Allow insecure authentication" -

Note: This is essential, also, beware you need to jump through some hoops to click this box.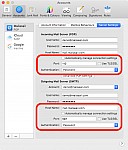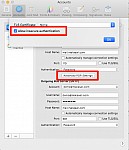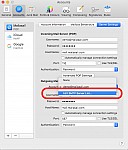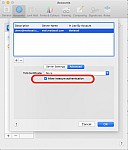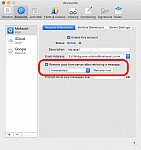 For more technical information see:
Problems?
See our Debugging / Troubleshooting Section for a solution