Install the Wifi Bat Software
Go to

http://www.wifi-bat.com

, click on Downloads in the menu. Under 'Wifi Bat High Power USB Wifi', select the driver for Mac operating systems.
Choose Save File.
Run the downloaded DMG file which will mount the driver disk.
Note this step is important!
Please read the steps below carefully. You may be using Finder to complete the next part of this installation
Note that these steps apply to OSX 10.7, 10.8, 10.9 only. The Wifi Bat driver is currently NOT correctly supported by OSX10.10 Yosemite.
IF Finder doesn't automatically open a Finder window titled "RTUSB_RalinkV5_Installer", then follow:

Open Finder.
In the Top Left of Finder continue by selecting RTUSB_RalinkV5_Installer (Under Devices section.)

Now double click the installer .pkg file "USBWireless-Install.pkg", (NOT the Uninstall.pkg file).
A new window titled 'Install Ralink Wireless Utility' opens.
Choose Continue, then Install.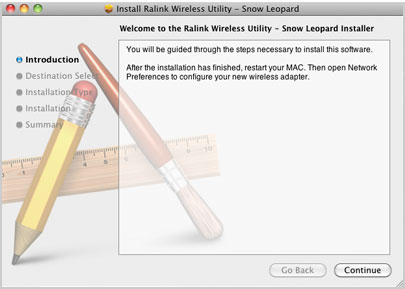 Enter your password when prompted.
Choose Continue Installation.
Choose the option to Restart your computer.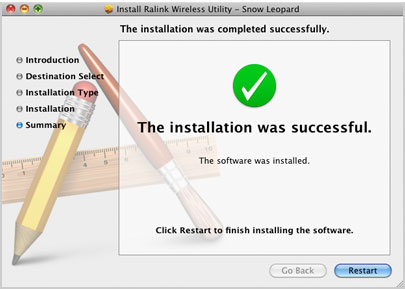 Note this step is important!
To correctly complete the installation: - You will need to restart your Mac - You may need to manually enter the Preferences / Wireless utility and confirm/ensure that there is a new entry in there and that you press the Apply button to save the changes.
Connect to Wireless Network Using the Ralink Utility:
Once your computer has restart, plug your Wifi Bat into a USB Port
The Ralink Wireless Utility will open automatically and will search for available wireless networks.
Note: Its useful to disable the built-in wireless to avoid accidentally using it.
Step 1 of 3
Select a network you wish to connect to, click Connect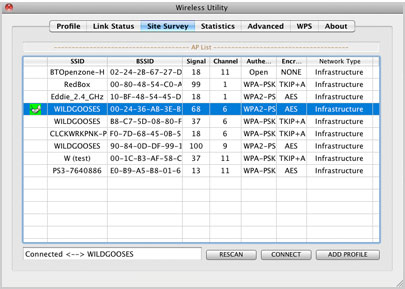 Step 2 of 3
Enter the network access password into the WPA Preshare Key box. Click Ok to continue with the configuration,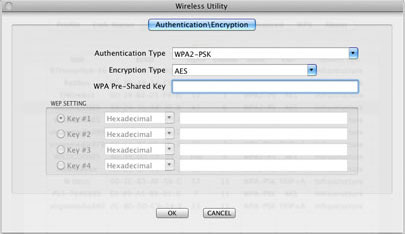 Step 3 of 3
Click on Link Status to view signal stength