The Thales VesseLINK (200 & 700) requires a 12V or 9-36V power input and can be powered via two main options:
Power from mains 110/240V AC "brick"
The Thales VesseLINK (700 terminal) comes with a mains AC adaptor which will convert various mains AC to 12V. This is connected via the circular connector on the Thales base unit (this is an optional add-on for the VesseLINK 200 terminal)
Power from DC or battery input
Both VesseLINK terminals (200 & 700) can also be powered from a battery 10-32V input. This will be connected via the D shaped connector and requires an additional cable not supplied with the standard retail box.
Positive and negative DC are connected to the two large connectors
An "ignition" input also allows the unit to be auto powered up/down using an external cable. This is not mandatory and the alternative is to power on/off using the switch on the front of the BDE (or disconnecting main power).
Wiring diagram:
A1 = V+ /10-32VDC
A2 =V- /GND
Pin 5 = Ignition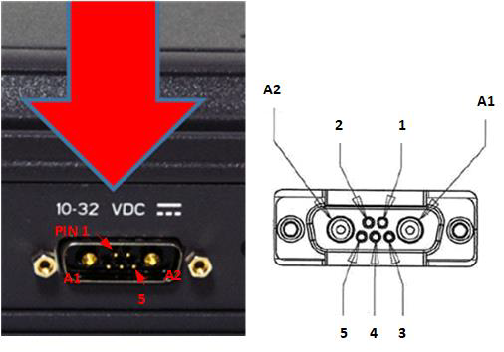 More info: