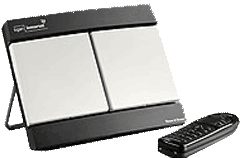 The Thrane & Thrane EXPLORER 300 optimises functionality in a highly compact,robust design.
The EXPLORER 300 is the smallest and most compact terminal in the Thrane & Thrane's range of BGAN products. Offering data speeds up to 384 kbps, the EXPLORER 300 is the lightest of the series, with a weight of 1.4 kg. The EXPLORER 300 is designed in a magnesium casing to ensure maximum durability and reliability and is fully IP 54 compliant.
Thrane & Thrane Explorer 300





Please contact MailASail for the most up to date prices we can offer you

Features:

Ultimate portability – at around half the size of a laptop, it adds little more than 1kg to your luggage.
Simultaneous voice and broadband data - access your data applications and make a phone call at the same time – via a Bluetooth handset or a standard desktop phone.
Highly flexible – incorporates a 2-wire telephone interface in addition to an Ethernet and Bluetooth (25m range) interface.
Extremely robust – splash and dust proof, highly durable design.
Global coverage – provides service anywhere within the BGAN coverage area.
Easy to use – simply plug in a phone, laptop or use the Bluetooth interface, point the antenna towards the Inmarsat satellite and you are connected. You can also access the service using the BGAN LaunchPad on your laptop, which gives you pointing assistance, terminal and network details.
Completely secure – connect seamlessly via your preferred VPN application.

Specifications
Weight
Dimensions
Standard IP
Streaming IP
Interfaces


< 1.4kg (3.1lb)
Length: 168mm (6.6") Width: 217mm (8.5") Depth: 52mm (2.1")
Send: Up to 240kbps, Receive: Up to 384kbps.
Guaranteed quality of service - Send: 32, 64kbps, Receive: 32, 64kbps
RJ-45 Ethernet port, RJ-11 phone port
Bluetooth (Supported profiles, Cordless handset, serial port, Service discovery application, Dial-up networking, Headset)
Please Note: Due to registered patents by an American wireless Prepay company, BGAN Prepaid is currently not available in the USA until further notice.