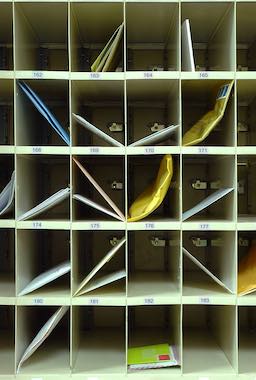 Have you ever wanted to move certain emails automatically into a specific folder? Or redirect particular messages to a shore-based contact whilst you are sailing? Well, now you can!
We've implemented some great new filtering functionality to give you greater control over your inbox. Use folders and add filtering rules to automatically sort & file your incoming emails, set up automatic forwarding and more!

Staying on top of your inbox
It's not always easy to keep up with the volume of incoming messages and this becomes even more difficult when you are at sea. To help you manage your inbox and process less important emails later, why not use folders & filters to organise your inbox and keep the clutter at bay?
Folders and filters
It's easy to set up a series of folders and filtering rules using Webmail. Let's take an example; you are expecting emails from your insurance company but you don't want to deal with them whilst you are at sea. However, you need to deal with them eventually and you don't want to scroll through your inbox to locate them all. You decide create a new folder called 'insurance' for these messages. You do this by looking for the settings button (bottom left or top right of the screen) and then selecting 'folders' and using the '+' button at the bottom of the screen to create a new folder: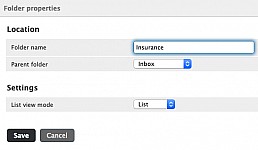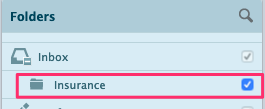 Once you have created your new folder, you can move any existing emails from your inbox and into the new folder. Additionally, you can create a filter or rule to automatically file any new emails from your insurance company.
There are a few ways to do this but probably the quickest is to click on an existing email from your insurance company and select the 'more' option with the 3 dots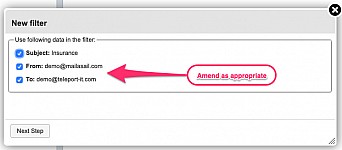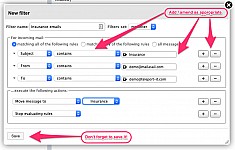 It's worth having a look at the other available 'actions' in the filtering screen. Other clever things you can do include redirecting and/or copying messages to another email address, or even perhaps discarding messages from a marketer that you don't want to talk to at the moment.
You can even set up out-of-office / vacation replies using the main settings option – just remember to take them off when you are back again!
Footnote for the techies!
For those of you with a more 'techie' background, we have implemented 'sieve' filtering on our servers, giving you even greater flexibility and control than before. These filters fire automatically every time a new email is received and can do almost anything with an incoming email from altering read/unread marks, tagging it, automatically replying (out-of-office assistant), moving spam to another folder or even deleting unwanted messages without reading them! It's a standardised filtering language and you can Google "sieve" for additional examples.