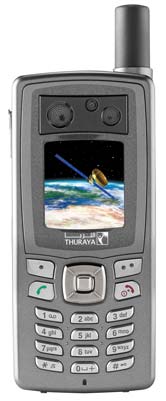 SO-2510 The Smallest and Lightest Satellite Phone Handset
The Thuraya SO-2510 is the smallest satellite phone on the market. With coverage in over 140 countries, you can stay connected across Europe, the Middle East , Asia, Australia and Africa.

Thuraya SO-2510 offers superior GPS navigation capabilities that allow you to find locations and reach destinations quickly and safely.

Thuraya SO-2510 comes with a colour screen while also supporting 12 languages including Arabic, English, Farsi , French, German, Hindi, Italian, Portuguese, Russian, Spanish, Turkish and Urdu.
Thuraya SO-2510

Please contact MailASail for the most up to date prices we can offer you

Features:

Almost global coverage
Polyphonic ringtones
USB Connectivity
Battery Talktime up to 2.4hours, standby time up to 50hours
Icon Desktop-SMS
Resolution - 128 x 128 pixels (1.5 inch)






Specifications:
Weight:
Dimensions:
Display:
GPS:
Connectivity:
GmPRS Capabilities:
Fax and Data:
Languages:


130g
118 x 53 x 19mm
262,000 colours
Enhanced waypoint navigation
USB, ear set, DC power
Downstream: up to 60 kbps Upstream: up to 15 kbps
9.6 kbps (circuit switched)
Supports 12 languages