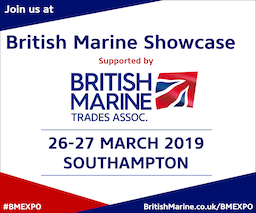 MailASail will be one of the marine industry experts exhibiting at the Marine Showcase on Tuesday 26th and Wednesday 27th March 2019 at St. Mary's Stadium in Southampton. The Marine Showcase forms part of British Marine's inaugral British Marine Expo which promises to bring together some of the association's most popular events with fantastic opportunities to learn, network and do business.
If you are planning to attend, come to stand A23 in the Itchen Suite and say hello. We will have equipment on display; ranging from the all new Iridium Certus terminal from Cobham, which represents the latest edition to satellite technology, to our shore based internet devices such as the our 4G 4Gateway and WiFi Bat long range WiFi booster.
Talk to us about how our RedBox wireless router can integrate all of your communications devices for reliable internet onboard.
To book tickets and for further information, go to: https://www.britishmarine.co.uk/Events-and-Courses/British-Marine-Expo-2019