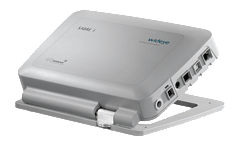 Add Value have combined high speed internet and a rugged, compact design to produce the Wideye Sabre 1.
The Wideye Sabre 1 is the perfect solution for a cost effective, single user, high speed mobile office. With its easily adjustable antenna and compact, rugged design , the Wideye Sabre 1 offers quick and easy set up. Combined with the a range of connectivity options and the capabilities of supplying data and voice at the same time, the Wideye sabre 1 equips the user in the field with a flexible, high speed office.
Wideye Sabre 1





Please contact MailASail for the most up to date prices we can offer you

Features:

Ultimate portability- It is one of the smallest and lightest terminals in the range.
Simultaneous voice and broadband data - access your data applications and make a phone call at the same time.
Highly flexible- can be connected to a laptop via the Ethernet port or wirelessly via Bluetooth.
Global coverage – provides service anywhere within the BGAN coverage area.
Easy to use – you can easily access the service using the intuitive icon-based BGAN LaunchPad on your laptop.
Robust – the strong casing means the SABRE™ I can withstand the toughest of environments.
Completely secure – connect seamlessly via your preferred VPN application.

Specifications
Weight:
Dimensions:
Standard IP:
Streaming IP:
Interfaces:


< 1.65kg (3.63lb)
Length: 259mm (10.20in) Width: 195mm (7.67in) Depth: 58mm (2.28in)
Send: Up to 240kbps, Receive: Up to 384kbps.
Guaranteed quality of service - Send: 32, 64kbps, Receive: 32, 64kbps
RJ-45 Ethernet port, RJ-11 phone port
Bluetooth (Supported profiles, Cordless handset, Headset, Serial port)
Please Note: Due to registered patents by an American wireless Prepay company, BGAN Prepaid is currently not available in the USA until further notice.